Serena Johnson is a news reporter.
She is played by Arhcie Panjabi.
Serena Johnson

Vital statistics

Position
News Reporter
Age
Unknown
Status
Alive

Physical attributes

Height
5' 3"
Weight
Unknown
San Andreas Edit
Serena is interviewing Joby and Marcus aboard one of the LAFD's rescue helicopters while they prepare to rescue Natalie. She asks them several questions, and writes down a few things on a notepad.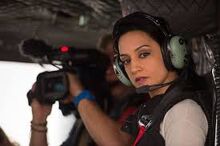 Later, she joins up with
Lawrence
. She expresses her sympathies over
Kim's
death before preparing to do an interview with him. But just after they begin,
Phoebe
and
Alexi
show Lawrence counts from seismometers positioned near the San Andreas fault.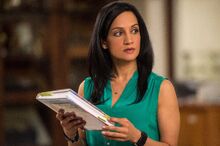 Later, the first earthquake begins, and Serena takes shelter in a doorway, but Lawrence grabs her and pulls her under a table.
Shortly afterwards, Serena and Lawrence issue a warning to San Francisco, letting the citizens know of the impending catastrophe. The 9.6 earthquake begins not long afterwards. In the aftermath, Serena assures Lawrence that he saved lives that day with his warning.
"Are you saying that the whole San Andreas fault might go off?"